CLICK HERE UNDER "EXTRAS" TO SEE OUR NEW HANDCRAFTED KNIVES!


Rugged, all-purpose knives handcrafted from antler and a variety of beautiful woods by my good friend Dudley Moore and me!
---
TURP IN THE NEWS! March 1, 2009
"Calling Curve" by Joe Duggan, Lincoln Journal Star
---
Welcome to My Site!
I'm excited that you've logged on to my website. Thank you. I love sharing my passion for turkey hunting and hope that you're just as enthusiastic. Please take a moment, look around and send me an e-mail. Let me know what you think. I'd love to hear from you. Join my e-mail list, too, for occasional Turpin turkey tips and more.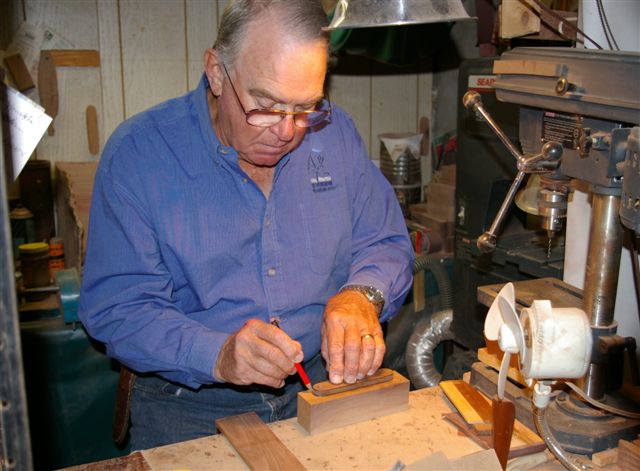 I have many interests, but turkey calling and hunting are among my favorites. I also enjoy working with my hands and making items that are user friendly, durable and pleasing to the eye. My passion for these hobbies has lead to many years of personal satisfaction making box calls for myself and others. I was proud to have my calls included in Earl Mickel's 1999 book, TURKEY CALL MAKERS: The Rest of the Best."

Although this site is dedicated to calling and hunting the North American Wild Turkey, you'll find other odd and ends on the site that I hope you find valuable. Check out the other products that I craft in my shop at home or peruse the Hot Shots page where I've displayed a few of my favorite pictures. I want your photos, too! Click here to send a photo or two of a recent hunt. I'd love to share your successes.

I would be honored to make a personalized call for you, answer any questions you have about turkey calling or hunting or even come to your community to share my interests and a few stories. Mostly, I hope this site gets you excited about getting out in the woods and bringing in a bird.

Enjoy the hunt!

Sincerely,

Dick Turpin
Handcrafted Box Calls & More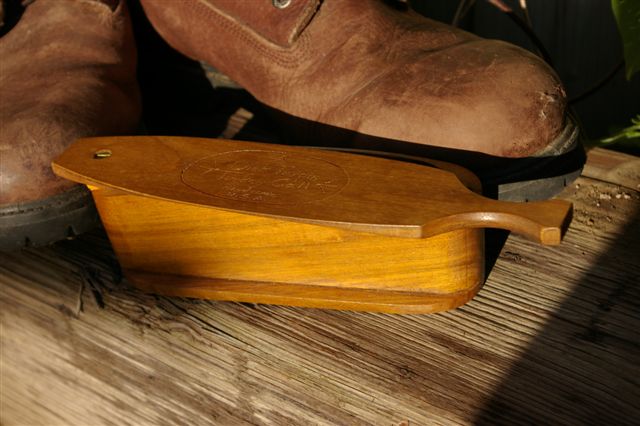 I began making turkey box calls on occasion for friends more than four decades ago, but got serious about my craft in the early 70s. After experimenting here and there with different styles and woods, I settled on the above design in a quality walnut that produces a raspy sound sure to grab the birds' attention. This call has been very effective on my hunts and will be for yours.


In addition to the box call, I make a pocket turkey call, rosin, a deer grunt call and a water repellent that can't be beat. I also have a turkey box call instructional video to walk you through the finer points of effective calling.
For the connoisseur of wildlife art, it's the Presentation Box set: a gorgeous walnut box and my box call that both feature detailed carved and painted turkey feathers by world-renown artist Cliff Hollestelle of Lincoln, Nebraska.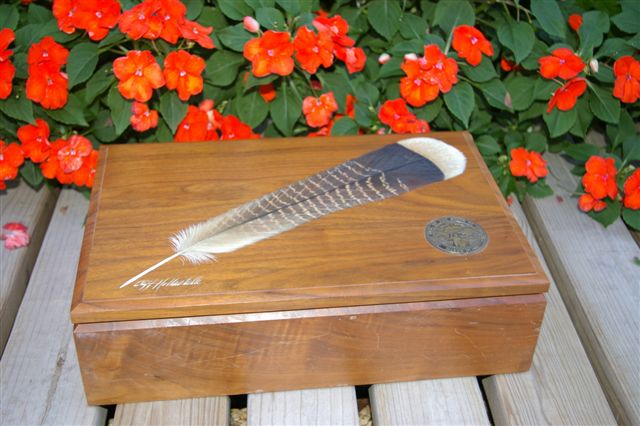 It's a collector's "must have." To learn more about Cliff and commission one of these beautiful works of art click
here
.